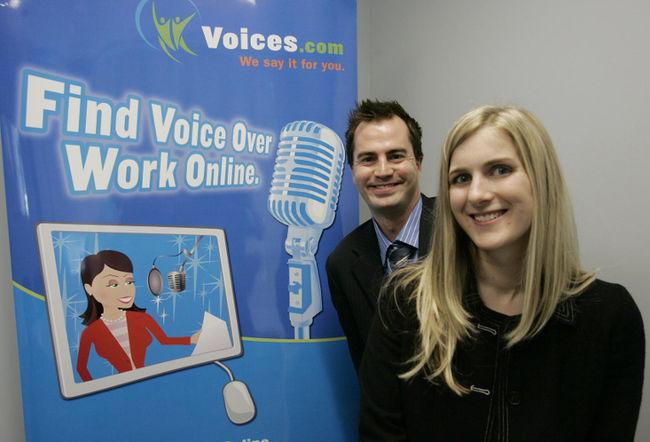 David Ciccarelli describes his business as "the startup that grew up."
He's the cofounder and CEO of Voices.com, a London, Ontario-based marketplace for voice talent.
While Voices.com may have grown up in the decade since the business started, that doesn't mean it's stopped growing.
"There's a growing demand," Ciccarelli says. He says that between $12 and $15 billion is spent worldwide on voiceovers every year.
"Every new technology that comes out suddenly creates a need for voiceover work," Ciccarelli says.
That includes new markets created for e-books by the iPod, app-based games and promotional videos for apps.
"In our business, we're almost doubling year-over-year," Ciccarelli says.
And there's more room for growth.
RELATED: Check out Big Viking Games at Tech Fest London on October 20th
"It's still extremely fragmented and when you have a fragmented industry, that's what makes it ripe for disruption," he says.
Just as technology has increased the need for voice talent, it's also opened the door for talented voice actors to work on out of home studios in a freelance basis. The problem for them, access to work. That's where Voices.com comes in.
But it's not just a simple marketplace, the company is using technology to improve the way it connects talent with work.
"The technical challenge has been how do we take the job posting criteria from the client and match that up with the most suitable voice talent in our database," Ciccarelli says.
To do that, Voicess.com has developed a recommendation engine it calls Voicematch.
The algorithm scores talent based on seven criteria and then sends the most suitable candidates an invitation to audition for the role.
It's also using technology to ensure that talent gets paid. Rather than just serving as a matchmaker, Voices.com now also acts as a trusted intermediary. Collecting payment from clients up-front and paying talent as soon as a work is completed.
"We're listening to what customers are asking for," Ciccarelli says.
Even though the company is developing digital solutions to simply payments and talent-job matching, Ciccarelli says Voices.com is a little different than the standard tech company.
"It's that hybrid into the creative services world where we're using, yes, amazing technology, but we're working with clients from around the world on really interesting projects," he says. "We're working with clients ranging from the small business advertising agency, to an independent video producer, all the way up to a Fortune 500 company, on projects varying from radio commercials, through to audio books, video games for game publishers, to large e-learning projects that need a voiceover to guide the students through the tutorial. The commonality here is that they all need the human voice to tell that story."
He says that diversity is a big part of what makes Voices.com special.
Voices.com will be at Techvibes Tech Fest in London on Oct. 20. Ciccarelli says he's looking to hire people who are curious, self-motivated, self-driven and competitive.